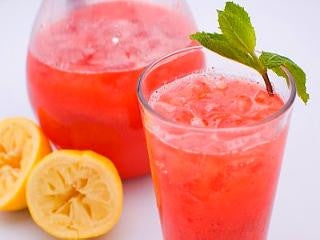 Strawberry Lemonade
The wait is finally over!  One of our most popular flavor requests is finally coming to fruition just in time for the summer.  Since we grow copious amounts of citrus in our region and California as a whole is the largest producer of fresh strawberries in the world it seemed only natural to combine the two flavors.  There is not a single beverage that quenches one's thirst on a hot summer day quite like a refreshing glass of strawberry lemonade.  The resulting months of testing has produced a tangy and slightly sweet treat that is as close to the real thing as we can achieve.   What awaits you is a delightful combination of our popular limoncello flavor infused with locally grown sweet strawberry flavor extractions.  If you enjoy Highbrow fruit flavors this is sure to impress!

This product  -   
  100% natural flavors. 0% artificial flavors.
  100% USP Kosher food grade PG/VG.        

 
 

No dilution unless requested. 

 
 

Come with childproof caps and warning label.
  Manufactured in the USA with products made in the USA.         
Currently In Stock
High
brow Vapor
endeavors to create flavor and fragrance that improve upon the real thing.  Our promise to you is this: You will not receive an overly sweet, bland, artificial or chemically offensive product.  
Ingredients Listing-
All products are customizable on the checkout page. Examples - "Add double flavoring", "Not too sweet", "Add a bit of hazelnut", etc... We encourage creativity.

***THIS FLAVOR IS NOT INTENDED FOR USE IN ELECTRONIC CIGARETTES***
---
More from this collection